These pages are not displaying properly because the Compatibility View in your Internet Explorer is enabled. We suggest that you remove 'fu-berlin.de' from your list of sites that have Compatibility View enabled.
In Internet Explorer, press the 'Alt' key to display the Menu bar, or press and hold the address bar and select 'Menu bar'.
Click 'Tools' and select 'Compatibility View settings'.
Select 'fu-berlin.de' under 'Websites you've added to Compatibility View'.
Click 'Remove'.
This view is optimized for use on tablet and desktop PCs. Due to limited display options the view cannot be used on smaller end devices. Please work on the view using a tablet or desktop PC! Thank you for your understanding!
Courses of the FUB Biochemistry Master's curriculum will take place in several locations, mostly on Campus Dahlem. The relevant buildings as well as libraries and canteens on Campus Dahlem are all within walking distance of each other. On the map below you can find the most important sites. Click on the red buttons to receive further information.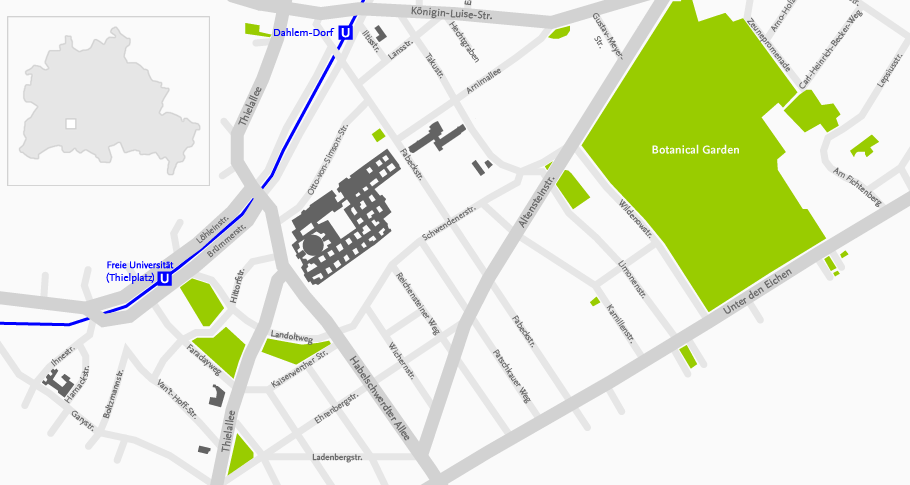 Examinations Office (Arnimallee 22)
At the Examinations Office, Biochemistry students can get administrative help regarding their studies, including entering of grades and credits in Campus Management, management of examinations, registration of internships/final thesis and obtaining certificates.
Campus-Bibliothek (Fabeckstraße 23/25)
The Campus Library for Natural Sciences, Cultural Sciences, Educational Sciences, Mathematics, Computer Science and Psychology holds about 1 million books and other literature on 10,000 square meters. Here, you can find almost 1,000 quiet workplaces as well as group rooms, which you can reserve online and use for studying alone or together with fellow students.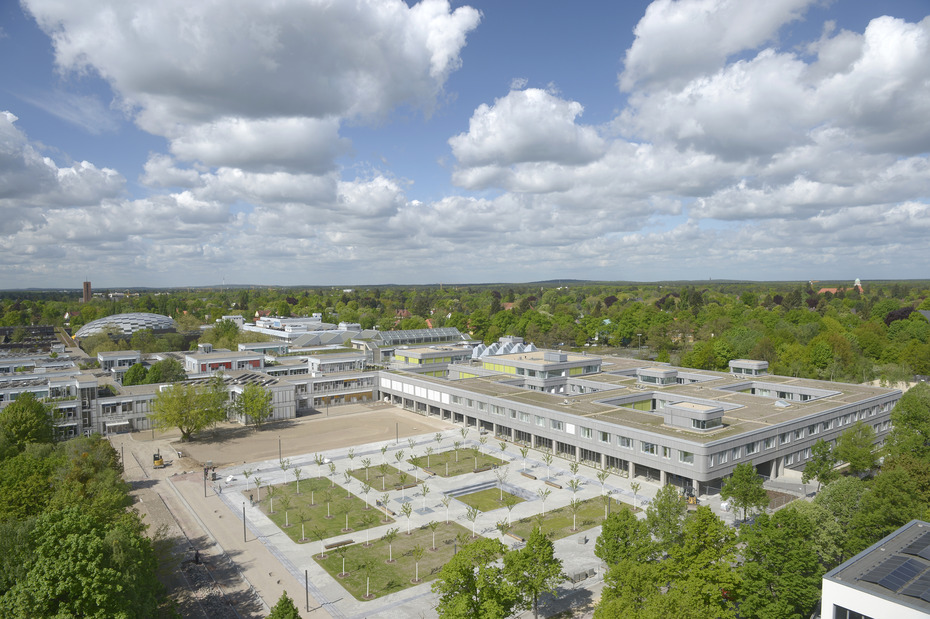 Campus-Bibliothek (Fabeckstraße 23/25)
Source: Bernd Wannenmacher
Universitätsbibliothek (Garystraße 39)
The Library contains a large collection of scientific textbooks on the first floor, and you can borrow most textbooks. If you enjoy studying at the university rather than at home and if you want to avoid dragging books around, there is a reading room on the second floor.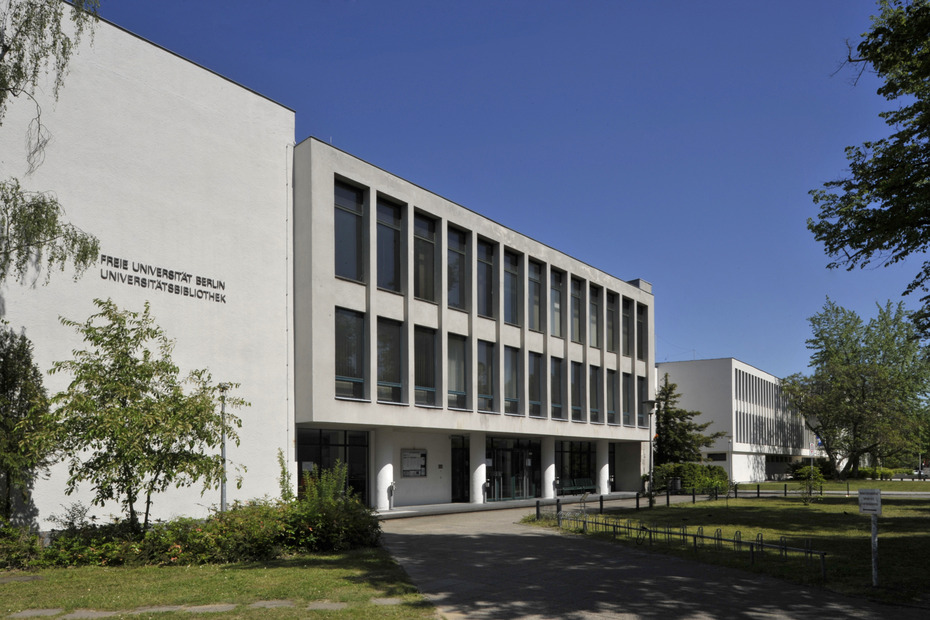 Universitätsbibliothek (UB), Garystr. 39
Source: Bernd Wannenmacher
Mensa FU II (Otto-von-Simson-Straße 26)
The Mensa FU II is the largest canteen on Campus Dahlem and is located in the Rost- and Silberlaube. Opening hours are Mondays to Fridays from 8:30 am to 6:30 pm. Lunch is served between 11:00 am and 2:30 pm - salads, soups, hot meals (including vegan/vegetarian options), fruit and desserts are available. Before and after lunch time, you can buy coffee and other drinks as well as snacks like bread rolls and cake.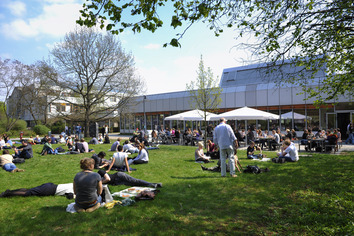 Mensa FU II, Otto-von-Simson-Straße 26
Source: Bernd Wannenmacher
Studierenden-Service-Center (SSC, Iltisstraße 4)
This is the Student-Service-Centre that provides general student counseling and helps with applications and other administrative issues. It also offers psychological counseling and services for international students.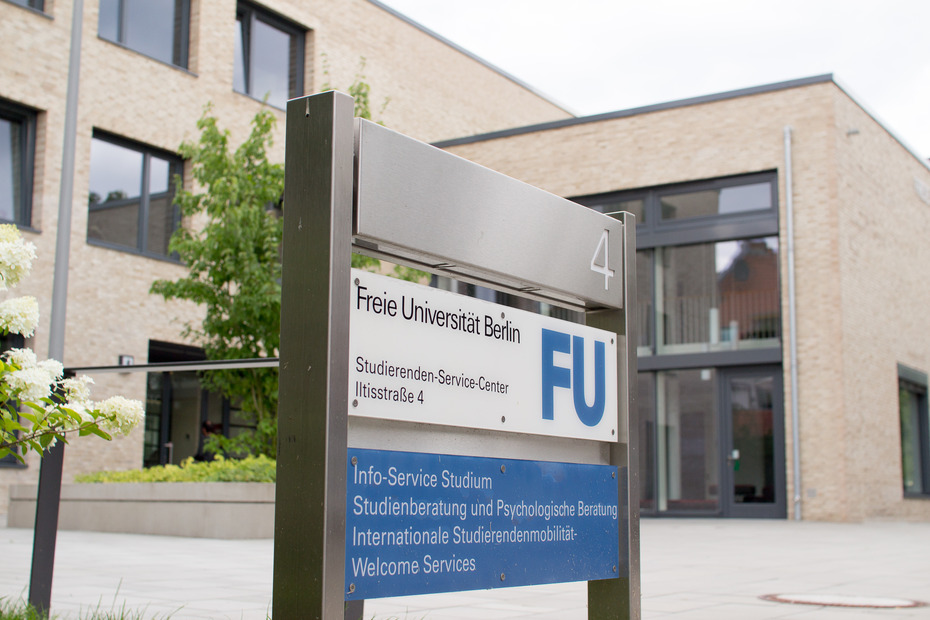 Studierenden-Service-Center (SSC), Iltisstraße 4
Source: Volker Möller
Takustr. 6
Takustr. 6 is the other building on Campus Dahlem that houses FUB Biochemistry research groups. The Advanced Biochemistry Part I lectures are held in its large lecture hall. The building is also called "Crystallography" (Kristallographie) because it of its long-standing association with X-ray crystallography.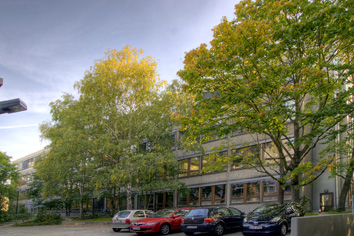 The "Kristallographie", Takustr. 6
Source: Fachbereich BCP
Hahn-Meitner-Bau (Thielallee 63)
The Hahn-Meitner-Bau is the main building of FUB Biochemistry, and some research groups are located here. This building was named after the famous scientists Otto Hahn and Lise Meitner who together with Fritz Straßmann worked here and discovered nuclear fission in the 1930s. The Lise Meitner lecture hall is on the second floor. The orientation days, the "Tombola" and the Advanced Biochemistry Part II lectures are held here.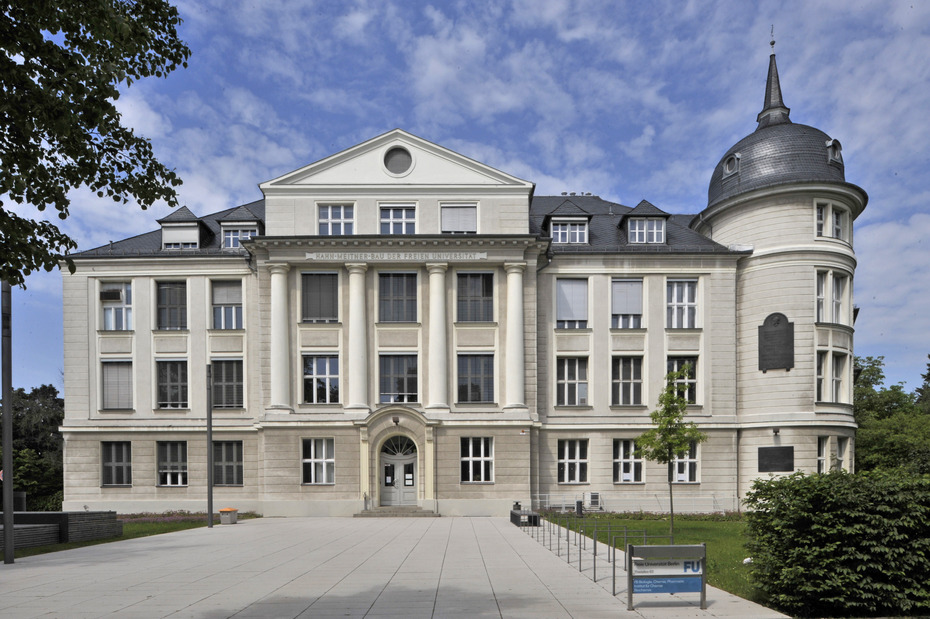 Hahn-Meitner-Bau, Thielallee 63
Source: Bernd Wannenmacher
Mensa Veggie No.1 (Van't-Hoff-Straße 6)
The Vegetarian Cafeteria is located next to the Hahn-Meitner-Bau and offers vegan and vegetarian lunch and drinks between 11:00 am and 2:30 pm. The cafeteria has a spacious outdoor area where you can enjoy good weather and your lunch at the same time.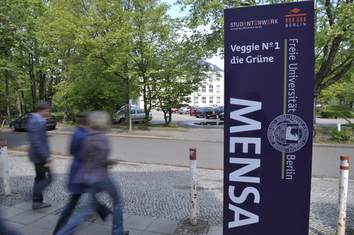 In front of the Veggie-Mensa, Van't-Hoff-Str. 6
Source: Bernd Wannenmacher
Zedat-Pool
At the computing services, Zedat, you can find many computer workstations and technical service assistance. Here, you can also inexpensively and quickly print scripts or posters.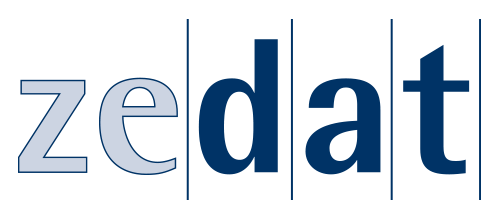 ZEDAT - Hochschulrechenzentrum