These pages are not displaying properly because the Compatibility View in your Internet Explorer is enabled. We suggest that you remove 'fu-berlin.de' from your list of sites that have Compatibility View enabled.
In Internet Explorer, press the 'Alt' key to display the Menu bar, or press and hold the address bar and select 'Menu bar'.
Click 'Tools' and select 'Compatibility View settings'.
Select 'fu-berlin.de' under 'Websites you've added to Compatibility View'.
Click 'Remove'.
Infographic: Applying for consecutive MA programs with an international university degree
This view is optimized for use on tablet and desktop PCs. Due to limited display options the view cannot be used on smaller end devices. Please work on the view using a tablet or desktop PC! Thank you for your understanding!
Click on the numbers to learn more about the single steps of the application process.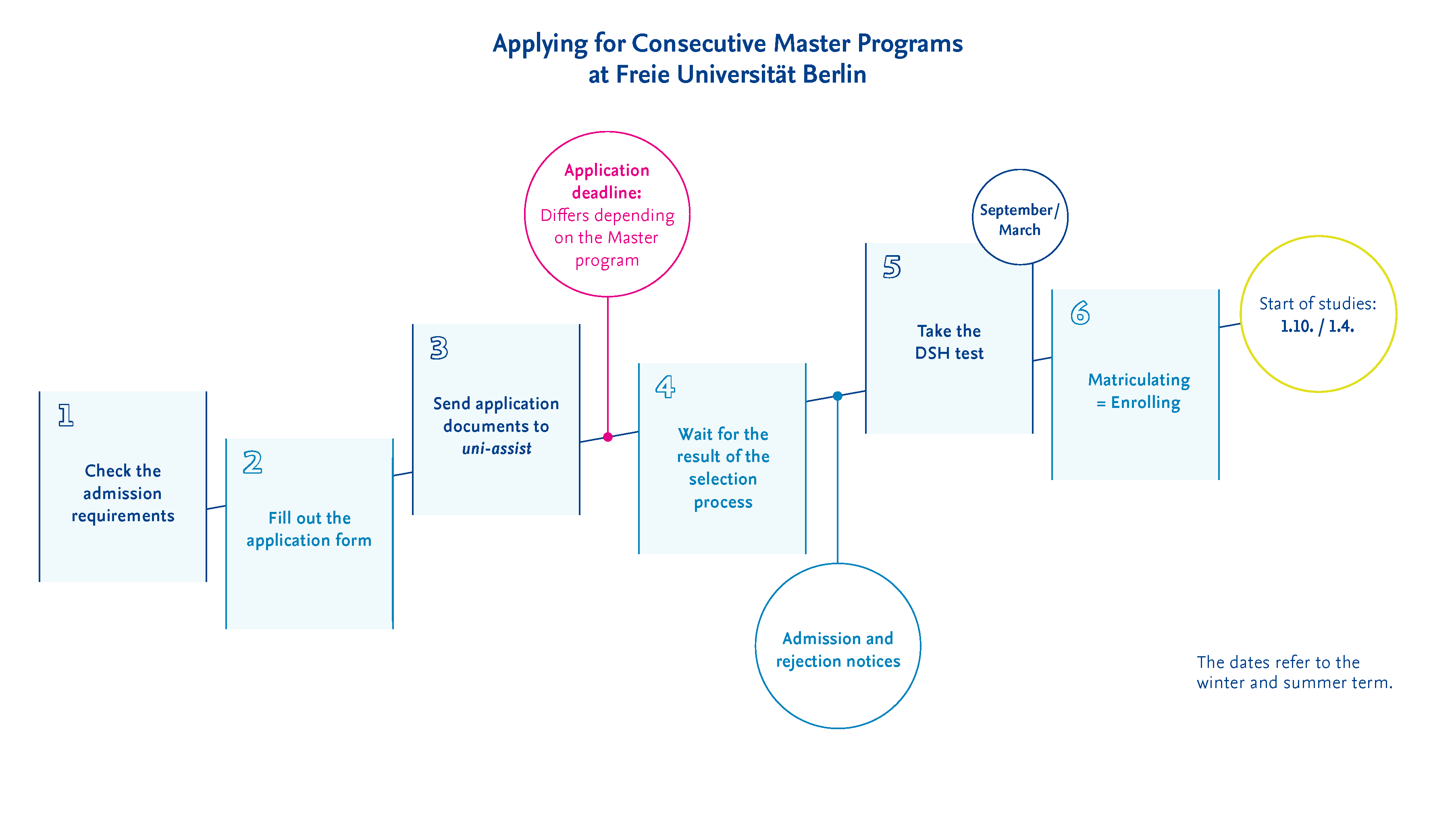 Difference between consecutive and continuing education master's
The majority of graduate MA programs at Freie Universität Berlin consists of consecutive MA programs: They are a continuation of the previous undergraduate degree program and, besides the regular semester fees, one does not have to pay additional tuition fees to enroll.
Continuing education MA programs, however, include additional tuition fees, and, in addition to an undergraduate university degree, usually require at least one year of professional work experience. You can find more information on the continuing education MA programs on www.fu-berlin.de/en/studium/studienangebot .The Application website will tell you more about how to apply for them.
Upload documents to uni-assist
Upload all required documents to the uni-assist application portal within the deadline.
The application deadline varies depending on the Master's program, visit website on application deadlines. For many Master's programs, the deadline is 31.5.
Documents required by uni-assist:
A list of all necessary documents can be found on the Master's application website.
Check the admission requirements
Generally speaking, an undergraduate/Bachelor's degree or another, equivalent, first university degree is always required to be admitted to a Master's degree program. Most of the consecutive MA programs ask for an undergraduate degree in a discipline that is somehow related to the Master's. There is a small number of consecutive MA programs that do not require an undergraduate degree in a related discipline. 
Language Skills:
For MA programs taught in German: Usually DSH 2 or an equivalent such as TestDaF level 4/4 or TELC C 1 Hochschule. Go to the university's Study Programs website to find the specific requirements for each program. For more information on how to prove your German skills, go to Freie Universität's International webpage.
For MA programs taught in English: Language requirements can vary. Go to the university's Study Programs website to find the specific requirements for each program.
Matriculation = Enrollment
Once you have provided proof of the German language skills required (by successfully passing the DSH test or an equivalent), you can enroll.
More information about the enrollment procedure and the fees to pay can be found on the website of the university's Student Administration Office.
Selection process
Available spots in MA programs are filled according to the following quotas: 5% are for so called hardship applications. For the remaining spots, 20% are determined by the applicants' wait time, 80% are filled following criteria set up by the university itself that include the grade of the previous undergraduate university degree. More information can be found in the program descriptions (see www.fu-berlin.de/en/studium/studienangebot).
Fill out the application form
Find the application form on https://www.uni-assist.de/en/ 
You have to apply through uni-assist. Uni-assist checks your non-German certificates, degrees, and diplomas. If you fulfil all the admission requirements and have have handed in all of the necessary documents, your application will be forwarded to the university and included in the selection process.The university decides on your admission, not uni-assist.