These pages are not displaying properly because the Compatibility View in your Internet Explorer is enabled. We suggest that you remove 'fu-berlin.de' from your list of sites that have Compatibility View enabled.
In Internet Explorer, press the 'Alt' key to display the Menu bar, or press and hold the address bar and select 'Menu bar'.
Click 'Tools' and select 'Compatibility View settings'.
Select 'fu-berlin.de' under 'Websites you've added to Compatibility View'.
Click 'Remove'.
Infographic: Applying for Bachelor's and Law (state exam) degree programs with a foreign HZB
This view is optimized for use on tablet and desktop PCs. Due to limited display options the view cannot be used on smaller end devices. Please work on the view using a tablet or desktop PC! Thank you for your understanding!
Click on the numbers to learn more about the single steps of the application process.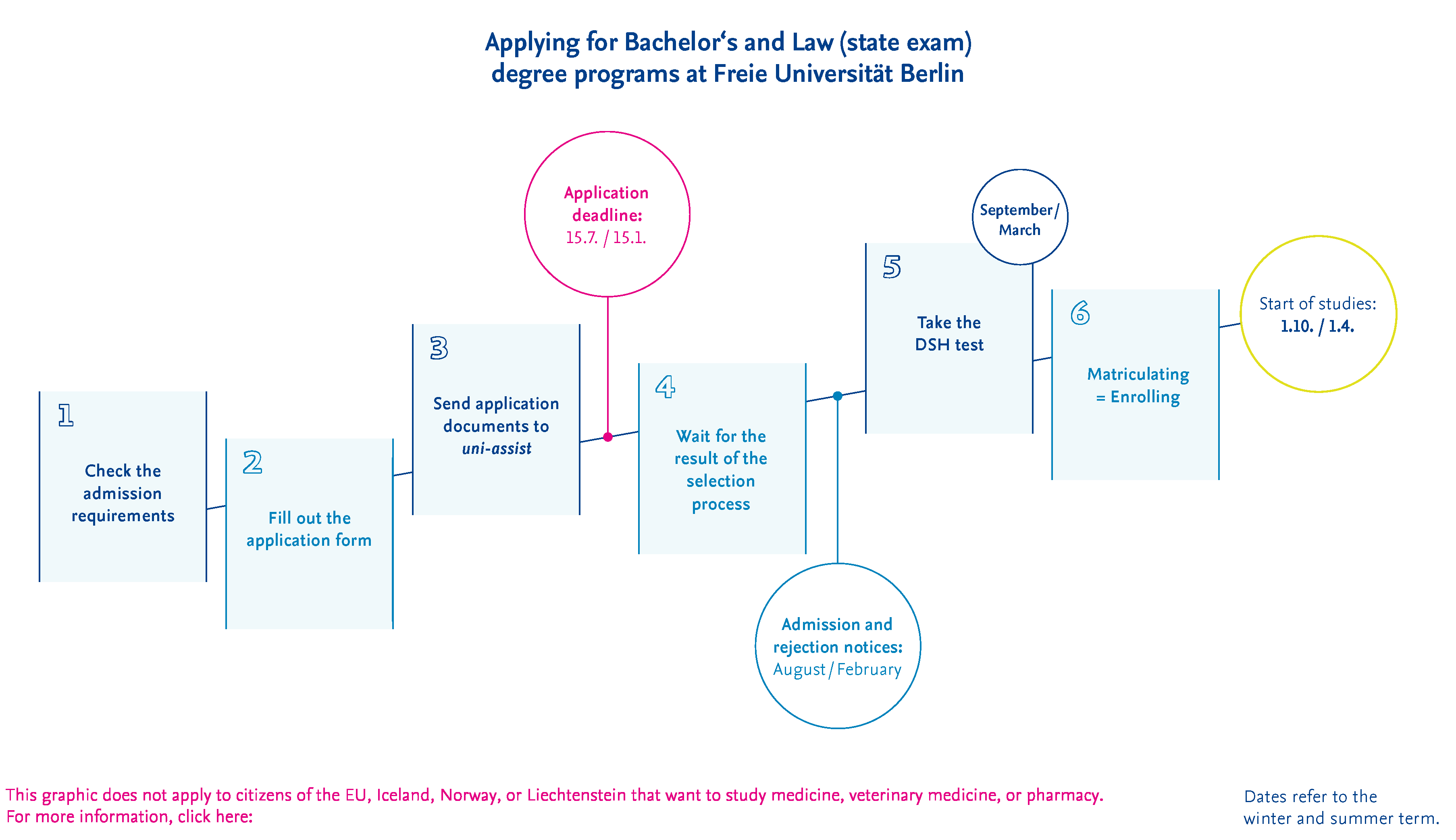 Hochschulstart
Applications for Freie Universität's state exam programs (Staatsexamen) in Pharmacy, Veterinary Medicine (and Human Medicine on behalf of the Charité - University Medicine Berlin) are processed by Hochschulstart for the following groups of applicants:
German applicants (including those with dual citizenship), regardless of where the higher education entrance qualification has been acquired
Citizens of other EU member states and of Iceland, Liechtenstein and Norway, regardless of the state in which the higher education entrance qualification has been acquired
International students with a German higher education entrance qualification (Bildungsinländer), regardless of their citizenship
For more information on Hochschulstart's central placement procedure, go to www.fu-berlin.de/en/studium/bewerbung/bachelor/dt-hzb/hochschulstart-dt/index.html
Upload documents to uni-assist
Upload all required documents to the uni-assist application portal within the deadline.
Documents required by uni-assist:
A list of all necessary documents can be found on the undergraduate degree programs application website.
Information for refugees:
If you are not in possession of your school certificates that prove that you have a higher education entrance qualification (HZB) due to having to leave you home country, please let uni-assist know in a short mail/letter and attach proof of your refugee status. Before you can commence your studies, you may have to take an assesssment examination at the Studienkolleg.
Check the requirements
Required for the application:
Matriculation = Enrollment
Once you have provided proof of the German language skills required (by successfully passing the DSH test or an equivalent), you can enroll.
Information about the enrollment procedure and the fees to pay can be found on the website of the university's Student Administration Office. 
Getting started
To facilitate your transition to university life, the university and the single departments offer several introductionary events and orientation days, both subject-specific and interdisciplinary ones. For an overview of all events and dates, go to Orientation at Info A-Z. 
Selection process
8% of all available spots in a study program (5% in medicine, veterinary medicine, and pharmacy) are reserved for non-European or stateless applicants with an international HZB. For those 8% (or 5%), admission is determined by the average grade of the HZB. 
Applicants that are citizens of the European Union, Iceland, Norway, or Liechtenstein fall under the same category as German applicants and are thus subject to the same selection process and criteria. For more information on the selection process and admission limits (Numerus Clausus) at Freie Universität Berlin, go to www.fu-berlin.de/en/studium/information_a-z/ncmerkblatt
Fill out the application form
Uni-assist checks whether your high school diploma/school-leaving qualifications grant you access to higher education in Germany and whether you fulfil the Freie Universität Berlin's admission requirements (→step 1). Uni-assist also converts your grades into the German grading system. If you fulfil all of the requirements and have handed in all of the necessary documents, your application will be forwarded to the university and included in the selection process. The university decides on your admission, not uni-assist.
Assessment Examination
You cannot apply directly for Freie Universität's Studienkolleg. You have to apply for a specific study program through uni-assist first. While processing your application, uni-assist will check the higher education entrance qualification (HZB) that you submitted. If your HZB does not grant you direct access to higher education institutions in Germany, uni-assist will evaluate whether you fulfilll the requirements to attend the Studienkolleg. If so, Freie Universität Berlin will invite you to the Studienkolleg's assessment exam. The Studienkolleg's program always starts only in the winter semester.
Further information
... can be found on the university's Application website.