These pages are not displaying properly because the Compatibility View in your Internet Explorer is enabled. We suggest that you remove 'fu-berlin.de' from your list of sites that have Compatibility View enabled.
In Internet Explorer, press the 'Alt' key to display the Menu bar, or press and hold the address bar and select 'Menu bar'.
Click 'Tools' and select 'Compatibility View settings'.
Select 'fu-berlin.de' under 'Websites you've added to Compatibility View'.
Click 'Remove'.
Infographic: Types of professional qualification
This view is optimized for use on tablet and desktop PCs. Due to limited display options the view cannot be used on smaller end devices. Please work on the view using a tablet or desktop PC! Thank you for your understanding!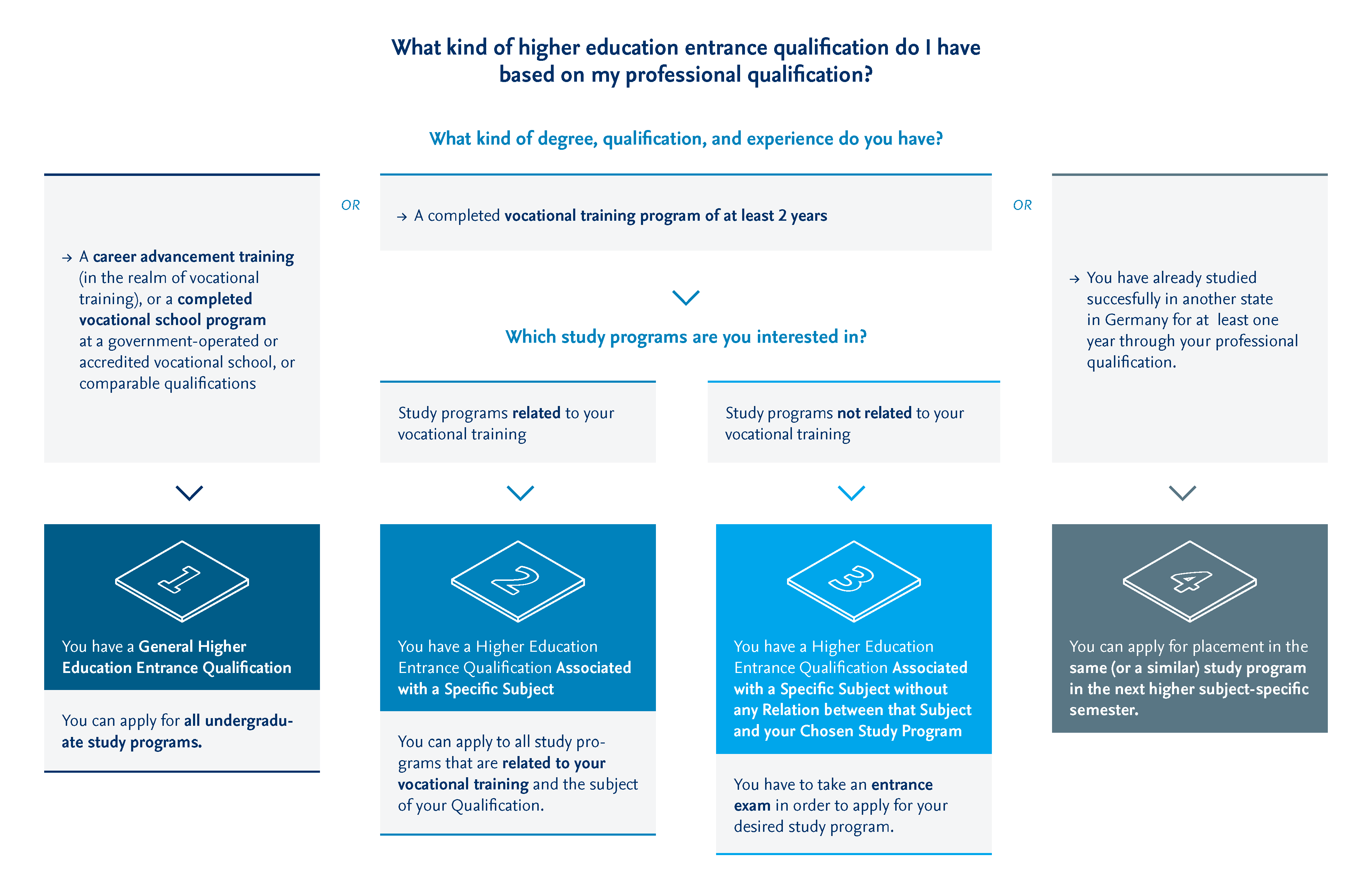 More on how to classify your educational and vocational background
Further information and things to note
Please note:
The minimum duration of employment required increases in case of part-time employment.
Leaves of absence, such as maternity leave, parental leave, or time spent taking care of relatives, will be given credit for up to a maximum of one year.
For scholarship recipients of the German federal government's Aufstiegsstipendium, the minimum duration of employment is lowered to two years.
Further information: https://www.fu-berlin.de/en/studium/bewerbung/bachelor/beruflich-qualifizierte/zuordnung
Applying for the next higher subject-specific semester
Subject association
To find out whether your vocational training and subsequent professional experience in that field are considered to be related to your chosen study program, please turn to the Student Administration Office. The office hours can be found on www.fu-berlin.de/en/studium/beratung/ssc.